2010 Madden Ranch Syrah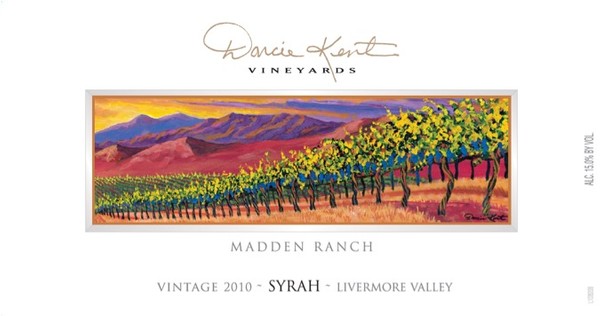 Wine Specs
Appellation
Livermore Valley
Vineyard Designation
Madden Ranch
Members save 20% on all wine and 30% on 12+ bottles. Discount taken at checkout.
Factoid
One of the highest and steepest vineyards in the valley, making a high-acid wine. Will age, soften, and become more lively in bottle.

Wine Profile
Tasting Notes
This Syrah has a bright acidity with ample blueberry, plum and red cherry aromas. The wine has toasty, spicy oak notes, expressed on the nose and finish. On the palate, there are pleasant earthy notes and some minerality.
Awards
Gold Medal - Romancing the Rhones/Rhone Shootout Competition, 2014
Vineyard Notes
Hugging the wind-swept hillsides of the Altamont Pass, the vineyard is so steep that water runs off quickly and the vines struggle to survive. This struggle pays off splendidly and the resulting grapes are both complex and intense. The intensity is what Virginia and John Madden (yes, that John Madden) demand of their signature vineyard. The topography of the land also allows for multiple microclimates, allowing the Maddens to experiment with various sustainable growing practices.
Production Notes
An early ripener, this grape was hand-harvested at night the 1st or 2nd week of Sept. Cold soaked 2-3 days to extract color. Aerated during fermentation with punch downs, rack & returns, and pump-overs. Aged in French oak 21 months w/ MLF.
Winemaker Notes
Winemaker - Julian Halasz
Food Pairing Notes
The smokiness of this Syrah will compliment the earthiness of any wild meat, duck, lamb, and pork dishes.
We currently ship to CA, CO, DC, FL, GA, IL, MA, MD, MI, MN, MO, NY, OH, OR, TX, VA, and WA.
We are continually adding new states to better service our customers. Please check back periodically for updates.
Case discounts are applied at checkout. Club Members must log in to receive Club Members discounts.