Meal Ticket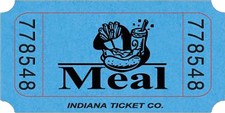 Members save 20% on all wine and 30% on 12+ bottles. Discount taken at checkout.
Pre-purchase your meal tickets ahead of time and pick them up at check-in!
Tickets will be available for pick up at the check-in table.
We currently ship to CA, CO, DC, FL, GA, IL, MA, MD, MI, MN, MO, NY, OH, OR, TX, VA, and WA.
We are continually adding new states to better service our customers. Please check back periodically for updates.
Case discounts are applied at checkout. Club Members must log in to receive Club Members discounts.