Quarter 1, Sunday 1PM-2:15PM Guest Ticket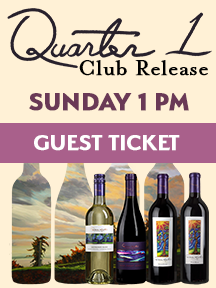 Darcie Kent Vineyards Wine Club 2023 1st Quarter Release Party - Guest Ticket
Sunday, February 5th, 2022 - 1:00 PM to 2:15 PM time slot.
This is a GUEST ticket for the 1:00 PM to 2:15 PM time slot. Each Club Membership receives two complimentary Member Tickets to attend the party. If you will be using both complimentary tickets, please add two tickets to your cart. Any additional guests will require the purchase of a GUEST ticket to attend the party (up to 4 guest tickets may be purchased).
Please join us for our 2023 1st Quarter Wine Club Release Party event at the Darcie Kent Estate Winery located at 7000 Tesla Road in the beautiful Livermore Valley.
We invite you to attend our Q1 release event with acoustic music and reserved seating to sample our new release wines while enjoying delicious food pairings.
For more information, to RSVP by phone, or for login support, please contact Darcie Kent Wine Club at 925-243-9040 or email wineclub@darciekentvineyards.com.
We look forward to hosting you at Darcie Kent Vineyards for this exclusive wine club event!
Product Reviews
We currently ship to AZ, CA, CO, DC, FL, GA, IL, MA, MD, MI, MN, MO, NV, NY, OH, OR, PA, TX, VA, and WA.
We are continually adding new states to better service our customers. Please check back periodically for updates.
Case discounts are applied at checkout. Club Members must log in to receive Club Members discounts.