Saturday 5th Quarter Release 11 am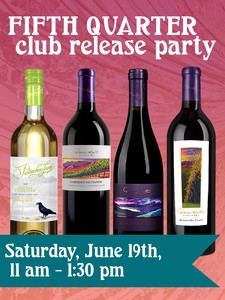 Optional 5th Quarter Release Ticket
We're excited to host our first annual Fifth Quarter club release!
The Fifth quarter is an optional release event for Club Members. Members opt in by purchasing a $100 ticket
The event is limited to the member ticket holder and one guest (2 people total). Each member ticket includes entry for the member and 1 guest on the 19th from 11 AM until 1:30 PM. Extra Guest tickets are available for purchase at $25 each. The guest tickets include wine tasting and food pairing but DO NOT include the build-your-own 5th Quarter club pack.
The member ticket includes wine tasting, food pairing, and a build-your-own 5th Quarter club pack at no additional charge (3 wines, mix and match of 4 wine options.)
We currently ship to AZ, CA, CO, DC, FL, GA, IL, MA, MD, MI, MN, MO, NV, NY, OH, OR, PA, TX, VA, and WA.
We are continually adding new states to better service our customers. Please check back periodically for updates.
Case discounts are applied at checkout. Club Members must log in to receive Club Members discounts.