Uncorked Winemaker Table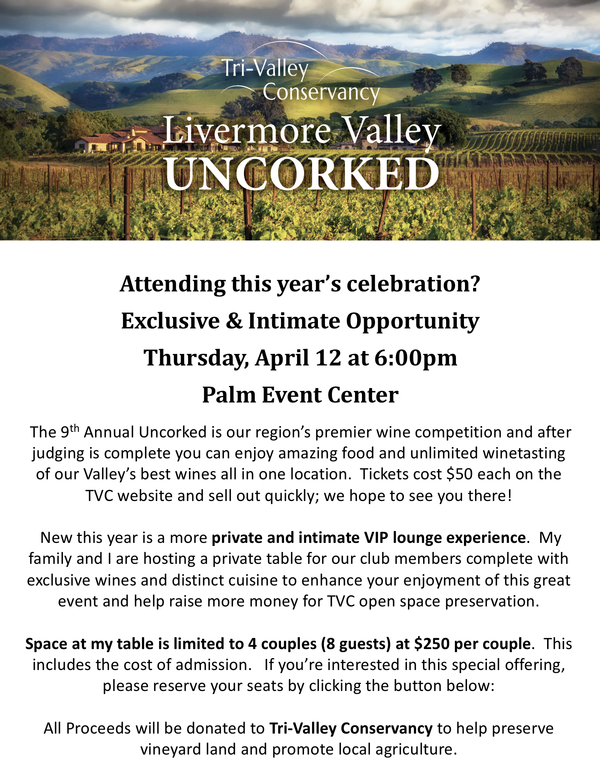 Members save 20% on all wine and 30% on 12+ bottles. Discount taken at checkout.
The 9th Annual Uncorked is our region's premier wine competition and after judging is complete you can enjoy amazing food and unlimited winetasting of our Valley's best wines all in one location. Tickets cost $50 each on the TVC website and sell out quickly!
New this year is a more private and intimate VIP lounge experience. My family and I are hosting a private table for our club members complete with exclusive wines and distinct cuisine to enhance your enjoyment of this great event and help raise more money for TVC open space preservation.
Space at my table is limited to 4 couples (8 guests) at $250 per couple. This includes the cost of admission.
All Proceeds will be donated to Tri-Valley Conservancy to help preserve vineyard land and promote local agriculture.
We currently ship to AZ, CA, CO, DC, FL, GA, IL, MA, MD, MI, MN, MO, NV, NY, OH, OR, PA, TX, VA, and WA.
We are continually adding new states to better service our customers. Please check back periodically for updates.
Case discounts are applied at checkout. Club Members must log in to receive Club Members discounts.